Howdy! I'm Mac King!
Here are some Magic Tricks that I know how to do. Inside I will teach you how to do them too! Enjoy!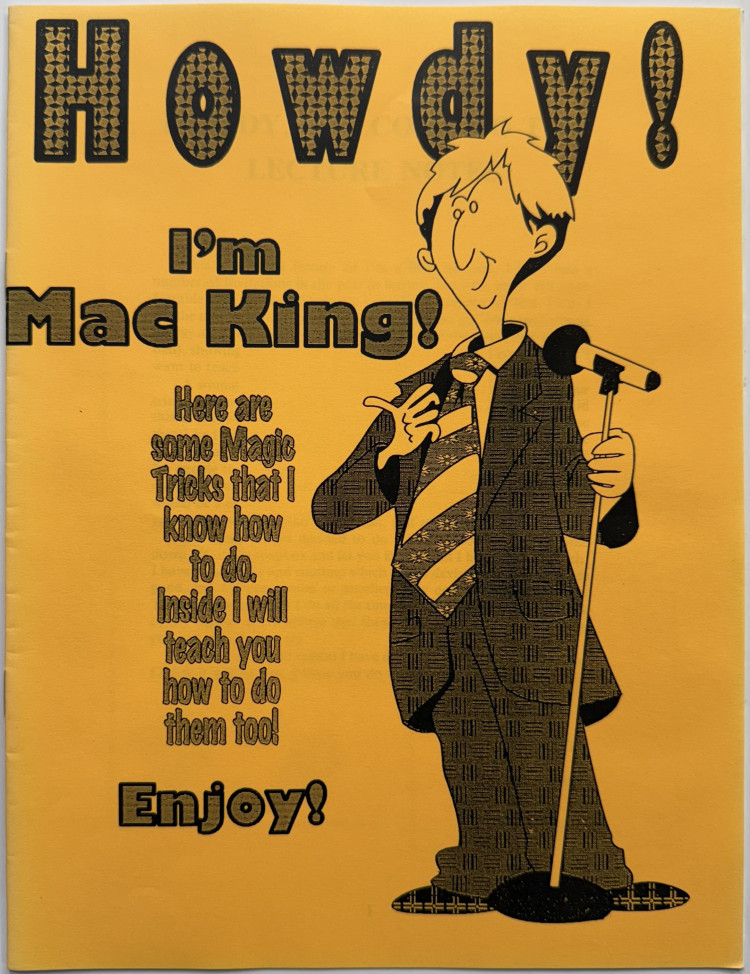 Creators
Title
Comments & References
Page
Categories

howdy, welcome to the lecture notes \n \n mac king 1990

Mac King

Howdy, Welcome to the Lecture Notes

mac king meets buster brown \n signed card appears from shoe \n mac king 1990

Mac King

Mac King Meets Buster Brown

bill vanishin' cigarette \n cigarette used as magic wand to vanish a bill - first cigarette vanish to behind the ear, then bill vanish and appear inside the cigarette \n mac king \n "ear it is" \n harry crawford \n louis tannen \n stick it in your ear \n mac king 1990

Mac King

Bill Vanishin' Cigarette

a real stand-up card routine \n signed card to pocket routine, ends with deck travelling to pocket \n mac king \n homing card \n francis carlyle 1990

Mac King

A Real Stand-up Card Routine

the professor wakes up \n climax to professor's nightmare \n mac king \n john cornelius \n "3-2-1 nightmare" (tom ogden) 1990

Mac King, John Cornelius

The Professor Wakes Up

king burton's drink \n produce a drink from handkerchief \n lance burton \n king solomon's drink \n paul harris \n champagne \n tom stone 1990

Lance Burton

King Burton's Drink

fork you in the eyes \n stick fork in eye, cream shoots out (gag with coffee creamer) \n mac king 1990

Mac King

Fork You In The Eyes

a message from lance burton \n \n lance burton 1990

Lance Burton

A Message From Lance Burton
Data entered by Harapan Ong.